Apply
Channel Analytics Manager
Date posted 08/02/2017
Location Portland, Oregon
Summary
Aruba, a Hewlett Packard Enterprise Company, is a leading provider of next-generation network access solutions for the mobile enterprise: http://www.arubanetworks.com/company/about-us.
We are looking for a Channel Analytics Manager to join our team.
The Channel Analytics Manager, based at our North America Region centre of excellence in Portland, Oregon will be responsible for defining, creating and enhancing the analytics & KPI metrics supporting the Channel organization.  The primary purpose is to drive a comprehensive understanding of channel business and support decision based analytics for senior management.  This broad and varied role will interact with multiple key stakeholder groups (i.e.: Sales, Finance, Marketing and IT) to drive sales efficiency and support sales enablement.
Success in this role will require a motivated, positive and hard-working professional who is not afraid to roll their sleeves up and proactively contribute to the continued success and growth of the organization.
Responsibilities:
Establish/Enhance standard for reporting and metrics: (examples)

By Partner – Membership level / # of customers / average discounting
By Distributor – Products / # selling partners / average discounting / inventory / WOS
By Membership Level – # of selling partners / growth trends
Key QBR information
Etc.

Develop and maintain reporting cadence (Daily, Weekly, Monthly, Quarterly and Annually) that is 100% predictable and responsive to our management team and PRfN program administration.
Drive continuous improvement of HPE Aruba reporting tools to meet our unique channel requirements.
Drive and establish availability of "self-service" reporting by member for the extended Channel team and others.
Enhance and drive improvement of HPE Aruba reporting visibility to PRfN Partners given our unique program and data source.
Drive reporting & analytics (scorecard) that will validate POS provided by distribution that meets our minimum PRfN requirements.
Other activity and ad hoc projects as assigned.
Open to occasional travel.
Required Qualifications:
Minimum of Ten (10) years relevant experience supporting analytics.
BA/BS degree in Business Administration, Economics, Finance or Accounting, required.
Excellent working knowledge of Salesforce CRM or PRM tool, required.
Expert knowledge of MS Excel and PowerPoint, required
Intermediate knowledge of SAP and Birst (or equivalent BI system), required
Must be proactive, creative, resourceful and results oriented.
Must have proven experience as a Self-Starter – Takes initiative, accountability & responsibility for own work.
Strong interpersonal and organizational skills, required.
Must be comfortable working in cross-functional teams and be an influencer as needed.
Intermediate to Expert level skills with Word and Outlook, required.
Fluent written and verbal skills (conversational and business communications) in English required.
Must be able and willing to accommodate occasional business travel.
Preferred Qualifications:
Channels and Channel/Sales Operations highly desired.
MBA, preferred.
Can be based at one of the HPE / Aruba office Locations:
Portland, OR (preferred)
Santa Clara, CA
Aruba, a Hewlett Packard Enterprise Company
The company designs and delivers Mobility-Defined Networks that empower IT departments and #GenMobile, a new generation of tech-savvy users who rely on their mobile devices for every aspect of work and personal communication. To create a mobility experience that #GenMobile and IT can rely upon, Aruba Mobility-Defined Networks™ automate infrastructure-wide performance optimization and trigger security actions that used to require manual IT intervention. The results are dramatically improved productivity and lower operational costs."
EG (Enterprise Group)
Enterprise Group works to streamline innovation and simplify IT with superior solutions. By combining ESSN (Enterprise Server, Storage and Networking) and Technology Services into one division, we gain a strategic advantage in our focus on "Converged Infrastructure". The HPE Enterprise Group supports our customers with the transformation and integration of their technology. We are there for our customers – come join us!
What We Offer
At Aruba, a Hewlett Packard Enterprise Company, we offer an exciting and fun work culture, driving innovation, collaboration, and growth. We place our customers first, deliver some of the most innovative technologies to the market, and have fun doing it all! Come join our team and be part of an exciting organization poised for success!
Aruba, a Hewlett Packard Enterprise Company is an equal opportunity employer. We evaluate qualified applicants without regard to race, color, religion, sex, sexual orientation, gender identity, national origin, disability, veteran status, or any other protected characteristic. The EEO is the Law poster is available at http://www1.eeoc.gov/employers/upload/eeoc_self_print_poster.pdf.
#ArubaNetworks #GenMobile #ArubaNetworksJobs #HPE #HewlettPackardEnterprise #ClearPass #Meridian
*LI-AS1
Apply
The brightest minds. The most intelligent technologies.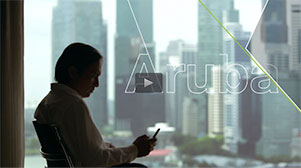 Learn more about how we're lifting mobile barriers, freeing businesses to do what's never been possible before. Join us and become a mobile hero.