Apply
Inside Channel Sales Specialist
Date posted 06/20/2017
Location Portland, Oregon
The Company is seeking to identify highly motivated and qualified individuals for various future opportunities as Inside Channel Sales Support Specialists.
In anticipation of these opportunities becoming available, completing a profile will allow us to evaluate your qualifications and interests and will allow us to stay connected.
Summary
Aruba, a Hewlett Packard Enterprise Company, is a leading provider of next-generation networking solutions for the mobile enterprise: http://www.arubanetworks.com/company/about-us. We have an exciting opportunity for an Inside Channel Sales Specialist (iCSS) to join our team.
The iCSS will be responsible for locating, recruiting, training and developing qualified Channel Partners in order to achieve corporate objectives of sales, growth, profits and visibility within the partner community.
The iCSS must also prospect by proactively making outbound calls to identify end user opportunities for the partner community, building pipeline, providing necessary presales support, working closely with Channel Partners and driving deals to increase revenue. All individuals will be expected to exceed quota assignments for their respective assigned areas and maintain a detailed record of their activities.
Additionally, the iCSS will be responsible for monthly, quarterly, and annual partner targets in a designated region of the United States. The ICAM is also responsible for reporting and analyzing partner data they are currently supporting.
Opportunity for Advancement: The successful candidate will be motivated to meet sales objectives in the iCSS role for an average of 12-18 months. After this initial period the candidate will be open to potential assignments to field sales and/or channel opportunities so long as the business environment and headcount allows.
Responsibilities:
Accept inbound and perform outbound telephone calls from/to strategic partners to identify sales opportunities.
Track sales opportunities (leads, deal registration, quotes etc.) and drive partners' revenue generation activities.
Perform ongoing analysis and reporting on partners that are supported.
Act as a liaison between partners and appropriate ARUBA NETWORKS sales reps to help partners close sales opportunities.
Demonstrate consistent achievement of sales quota.
Must have proficiency with various software applications programs including Microsoft Office and CRM tools such as Salesforce.com.
Ability to close business while achieving a high level of partner satisfaction.
Perform other duties and projects as assigned.
Required Qualifications:
Bachelor's degree and relevant experience, or equivalent experience, required.
Proven experience facilitating sales and providing excellent support, required.
Excellent written and verbal communication skills, required.
Ability to present, required.
Ability to apply entrepreneurial strengths in a driven, forward-thinking manner, required.
Proven work-ethic and time-management skills, required.
Preferred Qualifications:
Experience in channel sales, preferred.
Experience selling wireless, networking, or technology security solutions, preferred.
Master's degree, preferred.
Location:
Aruba, a Hewlett Packard Enterprise Company
Aruba, a Hewlett Packard Enterprise Company, is a leading provider of next-generation network access solutions for the mobile enterprise. The company designs and delivers Mobility-Defined Networks that empower IT departments and #GenMobile, a new generation of tech-savvy users who rely on their mobile devices for every aspect of work and personal communication. To create a mobility experience that #GenMobile and IT can rely upon, Aruba Mobility-Defined Networks™ automate infrastructure-wide performance optimization and trigger security actions that used to require manual IT intervention. The results are dramatically improved productivity and lower operational costs.
Aruba, a Hewlett Packard Enterprise Company is an equal opportunity employer. We evaluate qualified applicants without regard to race, color, religion, sex, sexual orientation, gender identity, national origin, disability, veteran status, or any other protected characteristic. The EEO is the Law poster is available at http://www1.eeoc.gov/employers/upload/eeoc_self_print_poster.pdf.
#ArubaNetworks #GenMobile #ArubaNetworksJobs #HPE #HewlettPackardEnterprise
#CBHPE
Apply
The brightest minds. The most intelligent technologies.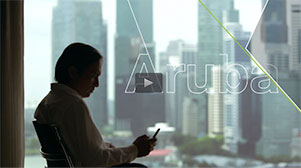 Learn more about how we're lifting mobile barriers, freeing businesses to do what's never been possible before. Join us and become a mobile hero.