Apply
Systems Engineer
Date posted 09/26/2017
Location Portland, Oregon
Summary
Aruba, a Hewlett Packard Enterprise Company, is a leading provider of next-generation network access solutions for the mobile enterprise: http://www.arubanetworks.com/company/about-us.
We are looking for a Systems Engineer to join our team.
The SE primarily provides pre-sales technical support for the development and implementation of complex products/applications/solutions.  As a Pre-Sales/Systems Engineer, the SE will be responsible for managing pre-sales technical / functional support to prospective clients and customers while ensuring customer satisfaction. With a proven track record of successful sales support activity, the Systems Engineer will present and articulate the capabilities and values of an Aruba Solution versus that of our competitors. The preferred candidate will have career level experience with networking infrastructure technologies in all arenas.
The SE will work with Aruba's Territory Managers to qualify opportunities and convert leads into successful engagements. The Systems Engineer must combine excellent sales support, and consultative skills with an expert understanding of advanced and emerging technologies with an emphasis on campus and distributed branch networks. The Systems Engineer will consult with their assigned Territory Manager to provide a comprehensive pitch to prospective clients.
This Systems Engineer will proactively support an opportunity pipeline and drive through the sales process to closure. This career level position requires the ability to lead in a team environment and to collaborate on the development of innovative, tailored solutions for both clients and prospects. Incumbents must know how to gather the client data required to effectively tailor a solution. Solution selling is a must, and incumbents need to understand the various ways a solution may be delivered and have the ability to anticipate what will work best for a given client. By combining technical expertise with business acumen this role provides vital, detailed information about how Aruba's solutions deliver business value to our clients.
Responsibilities:
Work with team to manage account and partner responsibilities for selected accounts in assigned territory.
Provide the optimum combination of hardware, software, and services to meet complex customer needs.
Assist in the development of the bid, proposal, and presentation of the solution to the prospect.
Provide specific solutions/technology/product/technical and sales support for accounts in assigned territory.
Assist in performing a career level of technical presentations for customers, partners, and potential prospects.
Assist in managing vendor partners to help drive business and deliver demand generation events.
Drive account relationships over time to continue to deliver advice to the customer and identify additional opportunities; maintain and manage a sales pipeline and forecasts against regional goals.
Possess basic career competitive knowledge including solution, technology, and product offerings, and work on increasing relevant knowledge.
Assist in providing consultative support to key internal/external stakeholders in assigned territory.
Use product knowledge to provide technical information to sales staff and the customer through sales presentations and product demonstrations.
Assists the sales staff in assessing potential application of company products to meet customer needs.
Assist in preparing detailed product specifications for the development and implementation of customer products/applications/solutions.
Assist in creating detailed design and implementation specifications for complex products/applications/solutions.
Assist in building a mini-application based on customer requirements to demonstrate feasibility of the application, often requiring rapid prototyping and/or product demo for client.
Assist in providing consultation to prospective users and/or product capability assessment and validation.
Required Qualifications:
Minimum of One (1) year of related experience and a Bachelor's degree
OR
Minimum of Three (3) years of experience in pre-sales technical support and a college degree.
Good level oral & written communication, organizational, presentation, prioritization, and interpersonal skills.
Must be customer focused and have the ability to design solutions to technical issues.
Must be able to interface with various levels of internal / external organizations.
Ability to work with senior level Systems Engineers on project, required.
Preferred Qualifications:
ACMP certification preferred.
CCNA or equivalent certifications preferred.
Bilingual skills in French, preferred.
Location:
Aruba, a Hewlett Packard Enterprise Company
The company designs and delivers Mobility-Defined Networks that empower IT departments and #GenMobile, a new generation of tech-savvy users who rely on their mobile devices for every aspect of work and personal communication. To create a mobility experience that #GenMobile and IT can rely upon, Aruba Mobility-Defined Networks™ automate infrastructure-wide performance optimization and trigger security actions that used to require manual IT intervention. The results are dramatically improved productivity and lower operational costs."
EG (Enterprise Group)
Enterprise Group works to streamline innovation and simplify IT with superior solutions. By combining ESSN (Enterprise Server, Storage and Networking) and Technology Services into one division, we gain a strategic advantage in our focus on "Converged Infrastructure". The HPE Enterprise Group supports our customers with the transformation and integration of their technology. We are there for our customers – come join us!
What We Offer
At Aruba, a Hewlett Packard Enterprise Company, we offer an exciting and fun work culture, driving innovation, collaboration, and growth. We place our customers first, deliver some of the most innovative technologies to the market, and have fun doing it all! Come join our team and be part of an exciting organization poised for success!
Aruba, a Hewlett Packard Enterprise Company is an equal opportunity employer. We evaluate qualified applicants without regard to race, color, religion, sex, sexual orientation, gender identity, national origin, disability, veteran status, or any other protected characteristic. The EEO is the Law poster is available at http://www1.eeoc.gov/employers/upload/eeoc_self_print_poster.pdf.
#ArubaNetworks #GenMobile #ArubaNetworksJobs #HPE #HewlettPackardEnterprise #ClearPass #Meridian
Apply
The brightest minds. The most intelligent technologies.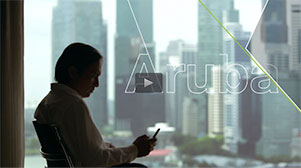 Learn more about how we're lifting mobile barriers, freeing businesses to do what's never been possible before. Join us and become a mobile hero.