Apply
Systems Engineering Manager
Date posted 08/08/2017
Location Portland, Oregon
Summary
Aruba, a Hewlett Packard Enterprise Company, is a leading provider of next-generation network access solutions for the mobile enterprise: http://www.arubanetworks.com/company/about-us.
We are looking for a Systems Engineering Manager to join our team.
The Systems Engineering Manager will lead a team of Systems Engineers that specialize in pre-sales activities of Aruba products and solutions. This position provides technical leadership and guidance to regional teams in support of sales and development efforts. In this role, you will be planning the technical direction for the team, identifying technical expertise requirements to grow the team as needed, and facilitating key partnerships between internal, partner, and client organizations. This is an ideal position for someone who has proven leadership skills and related industry and technical expertise to advance their career in management. The SE Manager (SEM) will report into the Inside Sales Director.
Responsibilities:
Sales Support/Opportunity/Customer Management
Support large, strategic opportunities by working with Sales Account/Territory Manager, Systems Engineer and Sales Operations Director to develop and implement a specific , technical resource plan as part of the strategic account plan
Develop and maintain key technical & management relationships in our large, installed base accounts to drive incremental revenue / solutions footprint
Manage and prioritize the efforts of our limited technical resources by qualifying opportunities and ensuring coverage of the business
Insure the SE team is 100% aligned with the goals, priorities and direction of the Regional Sales Operations Director
Escalate all critical customer issues and actively participate as the customer advocate in TAC escalation and critical account review processes
Escalate all sales opportunity special needs or requirements to insure HQ support resources deliver on requests to win new opportunities and retain/grow our installed base accounts.
Deliver senior level sales support with expert technical presentations, design support, product/solution demonstrations and customized content/messaging,
Insures that sufficient trained resources are in place in the local operation to fulfill the mission of the sales organization including any specialized technical resources needed locally by leveraging virtual teams, area and HQ product subject matter experts, etc.
People Management
Recruit, hire & retain top talent
Provide leadership, inspiration, motivation, and direction to the SE team in order to overachieve on Sales revenue goals and insure customer satisfaction.
Provide team leadership and coaching to develop a strong, tight knit team of SEs that becomes much greater than the sum of its individual parts.
Provide ongoing SE performance management to the direct report SEs with regular feedback and guidance for improvement
Provide annual focal performance review for each SE by soliciting input from the sales account / territory managers, regional Operations Director, Consulting Systems Engineers, product specialists and corporate stakeholders that work with them on a regular basis.
Develop and advance SE's knowledge and professional skills. Identify technical deficiencies & growth requirements for each SE to be successful by developing, agreeing and executing an individual training/development plan (including advanced certifications).
Business Operations Management & Support - Strengthen the business
Identify, communicate and leverage best practices for SEs across the organization
Coordinate SE team support for regional marketing activities, product launch events, customer events, user groups, etc,
Drive communication between field and HQ resources on technical support and product requirements
Provide management of regional Sales and SE demonstration equipment requirements (planning for SE Home Lab needs and new product introduction requirements)
Insure SEs are well equipped with necessary tools to troubleshoot, analyze and resolve complex customer issues
Work with Customer Advocacy management team to insure critical post sales customer issues requiring onsite support are covered with a local SE assisting CA filed resources, or working directly with TAC
Constantly work to maximize pre-sales cycles of SEs and minimize post –sales resource drains by insuring support organization resources effectively address and resolve customer issues.
In all cases, embody the spirit of our CUSTOMER FIRST, CUSTOMER LAST philosophy to insure customer success
Provide support to the Sales Operations Director to train new Account/Territory Managers on our core solutions & technology differentiation
Provide local support for channel partner enablement and development
Develop and maintain key partner relationships
Drive technical excellence and enablement into the channel
Foster and accelerate channel loyalty
Own the mindshare of the channel engineering community
Must have excellent skills in critical account management.
Required Qualifications:
Minimum of a BS/BA (EE/CS) or equivalent, required.
Minimum of Twelve (12) years related experience in data networking infrastructure, AAA Policy Management applications, unified communication applications and services, related tools, testing systems, services.
Minimum of Eight (8) year of leadership/management experience and/or or demonstrated leadership track record of technical teams is desired.
Preferred Qualifications:
Masters degree.
Aruba Networks and Industry certifications.
Location:
Aruba, a Hewlett Packard Enterprise Company
The company designs and delivers Mobility-Defined Networks that empower IT departments and #GenMobile, a new generation of tech-savvy users who rely on their mobile devices for every aspect of work and personal communication. To create a mobility experience that #GenMobile and IT can rely upon, Aruba Mobility-Defined Networks™ automate infrastructure-wide performance optimization and trigger security actions that used to require manual IT intervention. The results are dramatically improved productivity and lower operational costs."
EG (Enterprise Group)
Enterprise Group works to streamline innovation and simplify IT with superior solutions. By combining ESSN (Enterprise Server, Storage and Networking) and Technology Services into one division, we gain a strategic advantage in our focus on "Converged Infrastructure". The HPE Enterprise Group supports our customers with the transformation and integration of their technology. We are there for our customers – come join us!
What We Offer
At Aruba, a Hewlett Packard Enterprise Company, we offer an exciting and fun work culture, driving innovation, collaboration, and growth. We place our customers first, deliver some of the most innovative technologies to the market, and have fun doing it all! Come join our team and be part of an exciting organization poised for success!
Aruba, a Hewlett Packard Enterprise Company is an equal opportunity employer. We evaluate qualified applicants without regard to race, color, religion, sex, sexual orientation, gender identity, national origin, disability, veteran status, or any other protected characteristic. The EEO is the Law poster is available at http://www1.eeoc.gov/employers/upload/eeoc_self_print_poster.pdf.
#ArubaNetworks #GenMobile #ArubaNetworksJobs #HPE #HewlettPackardEnterprise #ClearPass #Meridian
Apply
The brightest minds. The most intelligent technologies.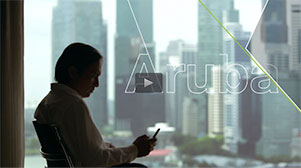 Learn more about how we're lifting mobile barriers, freeing businesses to do what's never been possible before. Join us and become a mobile hero.