Apply
Marketing Communications Specialist
Date posted 10/24/2017
Location Santa Clara, California
Summary
Aruba, a Hewlett Packard Enterprise Company, is a leading provider of next-generation network access solutions for the mobile enterprise: http://www.arubanetworks.com/company/about-us.
We are looking for a Marketing Communications Specialist to join our team.
Aruba, a Hewlett Packard Enterprise company is looking for a services-oriented marketing project management rock star to join the Marketing Communications team. This is a special opportunity to work with our talented in-house creative and web agency team and industry experts, in an organization that puts customers first and last, and has an established culture that empowers collaboration, learning, and growing your experience.
The person in this role will build and maintain strong working relationships with internal global marketing clients, collaborating to deliver brand-enhancing marketing collateral (print, video, digital) for a range of product and solution portfolio. They are accustomed to providing direction and managing stakeholder(s) expectations in activities, can efficiently plan and prioritize all deliverables and resources working across multiple projects. Organization and attention to detail is essential.
This position will also support projects in the areas of: global products and solutions, demand/lead generation, events, social media, and channel marketing. As the Marcom specialist, you will also be working closely with Product Solution Marketing and Global Marketing Teams, as well as in-house Creative, Web Teams and to execute and deliver on marketing plans and initiatives.
Responsibilities:
Own projects from beginning to end, while juggling many supporting responsibilities under tight deadlines
Drive the development of new content, and consistently deliver on existing processes and always be improving upon them.
Develop strong internal relationships with other functions to collaborate on marketing initiatives to meet our business goals. Be creative and resourceful in identifying and executing new projects
Manage creation and maintenance of corporate marketing assets, including: brochures, solution overviews, white papers, etc.
Review, champion and comply with the company brand identity and communication tone across all outbound marketing materials
Support the global marketing team with ad hoc requests and projects as needed
Manage administrative responsibilities as they arise, such as: presentation development, budget tracking, project efficiency and performance reports, etc.
Required Qualifications:
Minimum of a Bachelors Degree in Marketing, Business, or Communications, required
Minimum of Five (5) years of Project Management or Creative Production experience in direct Marketing, Communications, or Creative Agency, required.
Proven experience demonstrating strong project management and organizational skills, required.
Proven experience establishing strong working relationships with co-workers and internal clients.
Proven experience demonstrating outstanding collaboration skills with a proven ability to work cross-functionally in order to establish and meet shared organizational goals, required.
Self-starter and quick learner with an ability to operate independently, required.
Excellent verbal and written communication skills across different audiences and partners, required.
Proven ability to be calm under pressure and perform well under pressure, required.
Preferred Qualifications:
MBA.
Experience in the wireless networking industry.
Location:
Aruba, a Hewlett Packard Enterprise Company
The company designs and delivers Mobility-Defined Networks that empower IT departments and #GenMobile, a new generation of tech-savvy users who rely on their mobile devices for every aspect of work and personal communication. To create a mobility experience that #GenMobile and IT can rely upon, Aruba Mobility-Defined Networks™ automate infrastructure-wide performance optimization and trigger security actions that used to require manual IT intervention. The results are dramatically improved productivity and lower operational costs."
EG (Enterprise Group)
Enterprise Group works to streamline innovation and simplify IT with superior solutions. By combining ESSN (Enterprise Server, Storage and Networking) and Technology Services into one division, we gain a strategic advantage in our focus on "Converged Infrastructure". The HPE Enterprise Group supports our customers with the transformation and integration of their technology. We are there for our customers – come join us!
What We Offer
At Aruba, a Hewlett Packard Enterprise Company, we offer an exciting and fun work culture, driving innovation, collaboration, and growth. We place our customers first, deliver some of the most innovative technologies to the market, and have fun doing it all! Come join our team and be part of an exciting organization poised for success!
Aruba, a Hewlett Packard Enterprise Company is an equal opportunity employer. We evaluate qualified applicants without regard to race, color, religion, sex, sexual orientation, gender identity, national origin, disability, veteran status, or any other protected characteristic. The EEO is the Law poster is available at http://www1.eeoc.gov/employers/upload/eeoc_self_print_poster.pdf.
#ArubaNetworks #GenMobile #ArubaNetworksJobs #HPE #HewlettPackardEnterprise #ClearPass #Meridian
Apply
The brightest minds. The most intelligent technologies.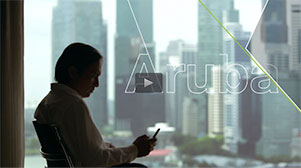 Learn more about how we're lifting mobile barriers, freeing businesses to do what's never been possible before. Join us and become a mobile hero.