Apply
Product Manager (Aruba Support Portal)
Date posted 04/21/2017
Location Santa Clara, California
Summary
Aruba, a Hewlett Packard Enterprise Company, is a leading provider of next-generation network access solutions for the mobile enterprise: http://www.arubanetworks.com/company/about-us.
We are looking for a Product Manager to join our team.
Partners with R&D and New Product Introduction (NPI) Supply Chain groups to successfully introduce new products into world-wide production. Product Engineers interface with R&D, factory process engineering, Test Engineering and reliability engineering to solve product quality or yield problems. Responsible to sustain products through cost reductions seeking yield improvements. Analyzes samples of defective units/sub-assemblies, reports the results to the appropriate design engineering, manufacturing engineering, test engineering and quality engineering team(s) as well as to the manufacturing group or area and/or vendor where the issue occurred, and recommends or implements changes to the product or process as applicable.
Responsibilities:
Provides direct and ongoing leadership for an organization of multiple subordinate managers and individual contributors coordinating and managing projects and the activities of internal and outsourced development and manufacturing partners in support of the worldwide manufacture of a product from new-product introduction through end of lifecycle.
Manages headcount, deliverables, schedules, and costs for multiple ongoing projects and programs, ensuring that resources are appropriately allocated and that goals, objectives, timelines, and budgets are met in accordance with program and organizational roadmaps.
Engages with program managers, marketing, supply chain, technical leaders and executives to communicate program status, escalate issues, and guide and influence strategic decision-making.
Manages relationships with outsourced partners and suppliers, including setting expectations regarding deliverables, product quality, schedules, and costs; ensures that team members are effectively communicating and collaborating with outsourced resources.
Proactively identifies opportunities for process improvement and cost reductions opportunities.
Provides overall people-care management for direct reports, including hiring, setting and monitoring of annual performance plans, coaching, and career development; drives and fosters organization-wide performance standards, expectations, and practices to support ongoing team member and process development.
Required Qualifications:
First level university degree or equivalent experience, required.
Minimum of Ten (10) or more years of related work experience, required.
Minimum of Five (5) years of people management experience, required.
Advanced leadership skills, including coaching, teambuilding, conflict resolution, and management, required.
Advanced project management skills including time and risk management, resource prioritization, and project structuring, required.
Excellent analytical and problem solving skills, required.
Experienced in managing human capital across geographies to drive workforce development and achieve desired results, required.
Advanced communication skills catered to a wide variety of audiences. (e.g. written, verbal, presentation), required.
Superior business acumen, technical knowledge of multiple business units, and extensive knowledge in applications and technologies, required.
Advanced multi-tasking and prioritization skills, required.
Advanced relationship management skills, including partnering and consulting, required.
Strong understanding of the company's policies and processes, required.
Preferred Qualifications:
Advanced university degree, preferred.
Location:
Aruba, a Hewlett Packard Enterprise Company
The company designs and delivers Mobility-Defined Networks that empower IT departments and #GenMobile, a new generation of tech-savvy users who rely on their mobile devices for every aspect of work and personal communication. To create a mobility experience that #GenMobile and IT can rely upon, Aruba Mobility-Defined Networks™ automate infrastructure-wide performance optimization and trigger security actions that used to require manual IT intervention. The results are dramatically improved productivity and lower operational costs."
EG (Enterprise Group)
Enterprise Group works to streamline innovation and simplify IT with superior solutions. By combining ESSN (Enterprise Server, Storage and Networking) and Technology Services into one division, we gain a strategic advantage in our focus on "Converged Infrastructure". The HPE Enterprise Group supports our customers with the transformation and integration of their technology. We are there for our customers – come join us!
What We Offer
At Aruba, a Hewlett Packard Enterprise Company, we offer an exciting and fun work culture, driving innovation, collaboration, and growth. We place our customers first, deliver some of the most innovative technologies to the market, and have fun doing it all! Come join our team and be part of an exciting organization poised for success!
Aruba, a Hewlett Packard Enterprise Company is an equal opportunity employer. We evaluate qualified applicants without regard to race, color, religion, sex, sexual orientation, gender identity, national origin, disability, veteran status, or any other protected characteristic. The EEO is the Law poster is available at http://www1.eeoc.gov/employers/upload/eeoc_self_print_poster.pdf.
#ArubaNetworks #GenMobile #ArubaNetworksJobs #HPE #HewlettPackardEnterprise
#CBHPE
Apply
The brightest minds. The most intelligent technologies.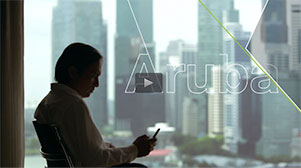 Learn more about how we're lifting mobile barriers, freeing businesses to do what's never been possible before. Join us and become a mobile hero.