Apply
Software Development Manager
Date posted 06/16/2017
Location Santa Clara, California
Aruba, a Hewlett Packard Enterprise Company, is a leading provider of next-generation networking solutions for the mobile enterprise: http://www.arubanetworks.com/company/about-us. We have an exciting opportunity for a Software Development Manager to join our team.
The company designs and delivers Mobility-Defined Networks that empower IT departments and #GenMobile, a new generation of tech-savvy users who rely on their mobile devices for every aspect of work and personal communication. To create a mobility experience that #GenMobile and IT can rely upon, Aruba Mobility-Defined Networks™ automate infrastructure-wide performance optimization and trigger security actions that used to require manual IT intervention. The results are dramatically improved productivity and lower operational costs.
Aruba HPE is looking for an experienced Software Development Manager to lead a team of engineers innovate and deliver in the Aruba OS Infrastructure Team.  The job entails understanding the product Requirements and translating them to Project deliverables . The Development manager assigns the Tasks among the Team members and is responsible for the timely delivery of the Project with high quality.  They must build effective teams and motivate them to execute on the goals.

Basic Qualifications
Bachelor's Degree or Master's Degree in Computer Science or related technical discipline
6+ years of relevant engineering experience
3+ years people management experience
Experience leading large-scale software projects from inception to customer delivery
Experience with Development in C, Python, Linux

Preferred Qualifications
Experience with Configuration and Management Software.
Cloud Development methodologies
Excellent verbal and written communication skills
Ability to handle multiple competing priorities in a fast-paced environment
Benefits you'll enjoy:
At Aruba, a Hewlett Packard Enterprise Company, we offer an exciting and fun work culture, driving innovation, collaboration, and growth. We place our customers first, deliver some of the most innovative technologies to the market, and have fun doing it all! Come join our team and be part of an exciting organization poised for success!
Thanks for taking the time to review our job, if you think it is a match to your experience and interests please apply today — we are eager to learn more about you!  We have dozens of openings, so encourage your friends to apply as well!
#ArubaNetworks #GenMobile #ArubaNetworksJobs #HPE #HewlettPackardEnterprise
Please note the above statements describe the general nature and level of work only. They are not a complete list of all required responsibilities, duties and skills. Other duties may be added, or this description amended at any time.
Apply
The brightest minds. The most intelligent technologies.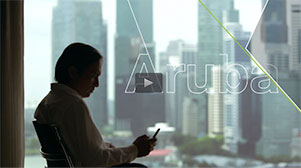 Learn more about how we're lifting mobile barriers, freeing businesses to do what's never been possible before. Join us and become a mobile hero.