Apply
Sr. Product Line Manager
Date posted 06/27/2017
Location Santa Clara, California
Aruba, a Hewlett Packard Enterprise Company, is a leading provider of next-generation networking solutions for the mobile enterprise: http://www.arubanetworks.com/company/about-us. We have an exciting opportunity for a Senior Product Line Manager to join our team.
The company designs and delivers Mobility-Defined Networks that empower IT departments and #GenMobile, a new generation of tech-savvy users who rely on their mobile devices for every aspect of work and personal communication. To create a mobility experience that #GenMobile and IT can rely upon, Aruba Mobility-Defined Networks™ automate infrastructure-wide performance optimization and trigger security actions that used to require manual IT intervention. The results are dramatically improved productivity and lower operational costs.
Position Summary:
This role has a mix of outbound and inbound PLM responsibilities, and the ideal candidate will have solid experience in the SMB segment, having managed cradle-to-grave product life cycle with strong emphasis on the business aspects:
You will have cross-functional partnerships with R&D, Product Marketing, Channels and Sales groups to successfully introduce new products into world-wide production. Responsible to sustain products and manage product life-cycles.
Responsibilities:
Oubound: Revenue ownership of new product line, responsible for revenue projections, crafting Go-to-Market strategies and driving engagement with marketing and Channel sales teams. Key voice of the customer, and responsible for conducting market research, competitive analysis and price tracking. Main contact for field engagement and craft/deliver presentations to internal and external audiences.

Inbound: Drive product portfolio strategy and roadmap, partner with R&D to successfully introduce new products to market. Engage in user testing for delivering superior product experience. Secure approvals for project funding.

Identifies and evaluates new technologies, innovations, and outsourced partner relationships for alignment with strategy roadmap and business value; creates plans for integration and update into architecture.
Reviews and evaluates product designs and project activities; provides tangible feedback based on results to improve product quality and mitigate risk of product failure.
Leverages recognized domain expertise, business acumen, and experience to influence decisions of executive business leadership, outsourced manufacturing and development partners, and industry standards groups.
Provides guidance and mentoring to less- experienced staff members to set an example of product engineering design and development innovation and excellence.
Education and Experience Required:
Bachelor's or Master's degree in Industrial Engineering, Manufacturing Engineering, Electrical Engineering, or equivalent.
Typically 10+ years experience.
Knowledge and Skills:
Strong experience in SMB market segment, having launched and created market-leading products/solutions; product segments include Networking, Telephony, IoT, etc.
Strong Experience in crafting and driving Go-to-Market strategies
Strong experience in Social Media campaigns, including SEO/SEM, digital marketing, etc.
Excellent analytical and problem solving skills.
Experience in 2-Tier Channel engagement, including Distributors, VARs and DMRs
Evaluating and selecting forms of empirical analysis, modeling and testing methodologies to validate product designs and specifications.
History of innovation with examples of developing new technologies and practices for manufacturing designs.
Excellent written and verbal communication skills; mastery in English and local language.
Ability to effectively communicate manufacturing architectures, plans, proposals, and results, and negotiate options at business unit and executive levels.
Benefits you'll enjoy:
At Aruba, a Hewlett Packard Enterprise Company, we offer an exciting and fun work culture, driving innovation, collaboration, and growth. We place our customers first, deliver some of the most innovative technologies to the market, and have fun doing it all! Come join our team and be part of an exciting organization poised for success!
Thanks for taking the time to review our job, if you think it is a match to your experience and interests please apply today — we are eager to learn more about you!  We have dozens of openings, so encourage your friends to apply as well!
#ArubaNetworks #GenMobile #ArubaNetworksJobs #HPE #HewlettPackardEnterprise
Please note the above statements describe the general nature and level of work only. They are not a complete list of all required responsibilities, duties and skills. Other duties may be added, or this description amended at any time.
#CBHPE
*LI-RB1
Apply
The brightest minds. The most intelligent technologies.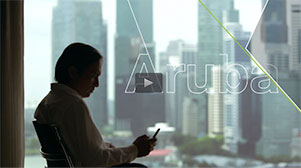 Learn more about how we're lifting mobile barriers, freeing businesses to do what's never been possible before. Join us and become a mobile hero.